First all weather sports facility opens in Portaferry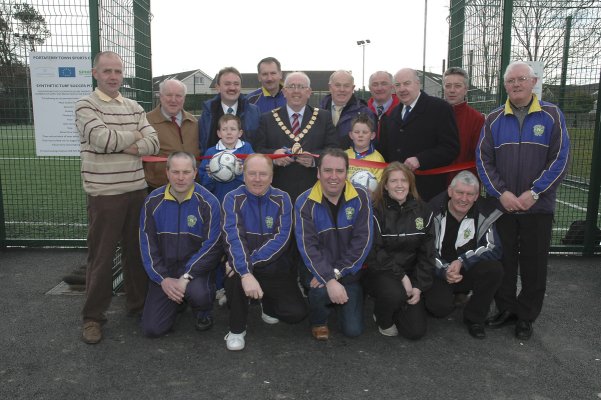 The initiative has been developed as a result of a partnership with Ards Borough Council and has attracted funding from both the Sports Council for Northern Ireland and the Ards Local Strategy Partnership.
Speaking at the unveiling of the new pitch today, Professor Saunders said:
"This is a wonderful venture which will encourage more young people to become involved in sport. It is an excellent facility for youth football and will significantly improve the coaching and training that Portaferry Town Sports Club provides for the young people of this area"
The new pitch is on a site owned by Ards Borough Council, which the club had agreed to develop for the benefit of young people in the local area. Mayor of Ards, Terence Williams said:
"I would like to commend Portaferry Town Sports Club for their initiative and for the hard work and effort that has gone into creating this excellent facility. The area is geographically disadvantaged so the development of this type of facility in the centre of the town is most welcome. It also puts to use land which was relatively unused."
Portaferry Town Sports Club has seven football teams including three girls' teams whose formation is directly attributable to the development of the all weather facility.
Paddy Gilmore, Chairman of the club, said that the pitch has enjoyed considerable popularity with local people:
"We are now able to provide year round facilities for our players and have also made the facility available to other clubs as well as casual users. This great facility will encourage more young people to get involved in football and other sports and will allow us to develop the abilities of local girls and boys to their full potential. We are very much indebted to our funders and to Ards Council, all of whom have made our dream a reality."
The pitch is a full IFA seven-a-side size, is fully fenced and floodlit and can be used by young people and adults. It can be hired by contacting Exploris, Portaferry, who handle all bookings.