Irish Cricket Welcomes England's Ashes Heroes
The Irish Cricket Union expects a huge demand for the 6,000 tickets when England's Ashes heroes come to Stormont on Tuesday, June 13. And for that reason, priority is being given to ICU members and people who apply for new membership of the Union.
Members and new member applicants will be given the option of buying tickets between 1st February and 28th February after which they will go on sale to the general public.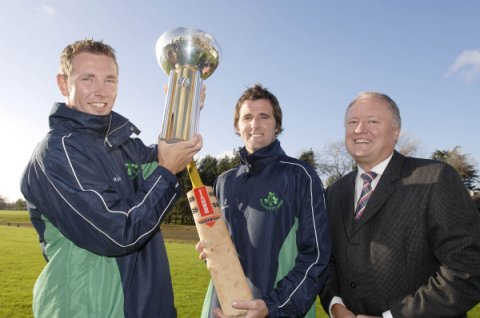 Special seating will be provided for what's expected to be a capacity crowd and tickets have been priced at £35/€50, with concessionary rates of £20/€30 for ICU members and £20/€30 for under 16s. Members will also be able to apply for up to three other tickets at the full price as well as discounted tickets for Ireland's four home C&G Trophy matches against leading English counties.
Special arrangements are being offered to school parties and 800 seats are being set aside to cater for them.
Details of all ticketing arrangements are available in the documents listed at the bottom of this page or by ringing the ICU on 00353 1 625 1170 and there will also be details of special hospitality packages for individuals and companies.
The match will be the most historic ever staged in Ireland. It will be the first meeting between the two countries in what will be Ireland's inaugural ICC One Day International following their qualification for the World Cup finals in the West Indies in little over a year's time.
The match will be included in the international averages and, therefore, England will be expected to field their full strength squad.
The game is being supported by the Northern Ireland Events Company and the Sports Council for Northern Ireland and the Irish Cricket Union is also inviting inquiries from potential match sponsors.
The chairman of the Irish Cricket Union, Joe Doherty, described the game as "the most attractive prospect in the history of the Union."
He said: "We all know about the fantastic appeal of the Ashes last summer and I have no doubt the visit of England will be one of the highlights of the entire local sporting calendar this year.There has been a terrific surge in the interest of cricket but in allocating the tickets we want to keep faith with members who have supported us in less glamorous times. We are also encouraging others to become members and, if they do, there are many benefits given Ireland's busy and attractive commitments now that we have ODI status."