COUNTDOWN TO YOUTH GAMES HAS BEGUN
The Countdown has begun to the Sport Northern Ireland Youth Games which takes place largely on the 12th & 13th May at a number of venues around Northern Ireland.
Over 800 young people aged between 12 and 16 will be competing in 10 sports including badminton, netball, table tennis, cricket, hockey, volleyball, camogie, judo and basketball. The boys and girls are the best of the best in their age group, nominated by school and club teams. Each child receives 20 hours coaching through the Regional Squad Development system and represents their Education & Library Board or County in the games. They are the potential sports stars of the future and the Youth Games gives them an opportunity to experience the adrenalin and expectation of taking part in a tournament of this size. Over the years Youth Games competitors have gone on to compete at County and International Level including the recent Cricket World Cup.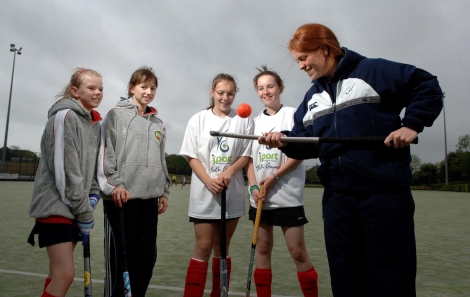 Pictured giving Left to right - Robin McKee, Jill Edgar, Chloe McIlwaine, Rachel Calvin and Rachel Mulligan who took part in the 2004 Youth Games giving some final tips before the Youth Games is former participant and now women's Ireland international hockey player Rachel Mulligan.